OUR STORY SO FAR
2002 – 2003: FORMATION AND NAME 
Josh Robins here!  I started recording zany musical ideas on 4-track tapes in the late 90s and eventually started a band to play it all in 2002. Trumpeter Rick Redman was the first to join me and my drum machine and we had an all-human line-up by August that sounded rather eastern-Europeanish with Manda Clair Jost on accordion. Bassist Tom Kimzey suggested we name ourselves The _______ Czars . As our first gig drew near, I suggested "Invincible" and we went with it. We recorded a demo in early 2003 and played clubs through frequent line-up changes.
2004 – 2007: THE CLASSIC LINE-UP  
The Classic Line-up of Tommy Holton (drums), Bill Petersen (keys), Adam Kahan (bass), Phil Davidson (violin), Rick, and I laid the foundation for everything the band has done since - debuted/recorded The Nutcracker Suite, ventured into silent film accompaniment (Aelita: Queen of Mars in 2006 with Sarah Norris on vibraphone) and toured/opened for bands like Estradasphere, NoMeansNo, Sleeptime Gorilla Museum, Melt Banana. 
The Austin American-Statesman jokingly named us "the official opening act for anything weird at Emo's."
2008 – 2014: THE NUTCRACKER ERA  
We played a lot of Czar-ified classical music and added a new silent film score every year – but The Nutcracker Suite was so popular that came to define this era. We played clubs a lot less.  
It was a return to the days of frequent turnover: We had eight drummers, most notably Louis Landry (who masterminded our 1812 Overture album) and Dave Irish and Gonzalo Ramos. Winds player Leila Henley replaced Rick and we recorded Fortissimo. We slowly built a silent film touring circuit from 2011-2013 with bass player Henry Vines contributing heavily to our compositions and Chuck Fischer became our drummer in 2014.  Leila and I got married in 2012.  Shaquille O'Neal admired our beards and introduced himself to us at the Four Seasons in Houston.
A massive heart attack limited Bill's activity in 2009 and he died October 2014. We were horribly sad.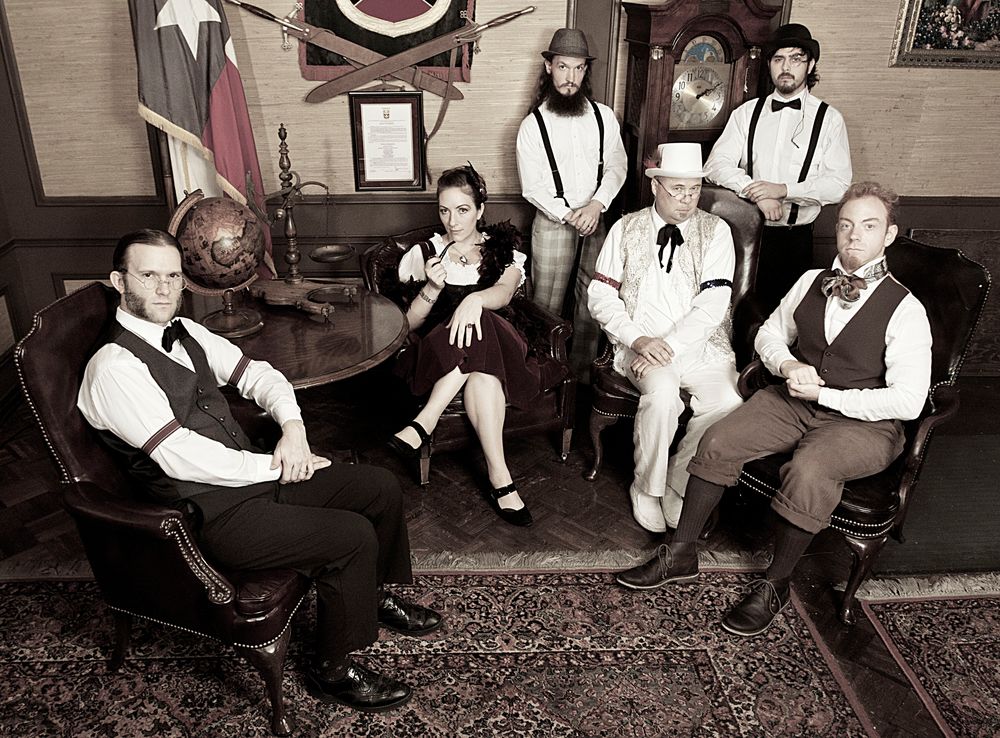 2015 – 2019: MORE SILENT FILM  
In 2015 our score for Nosferatu eclipsed everything else we did in popularity and by 2016, we were playing all over the US and Canada as a four piece – just me, Phil, Leila and The Jaguar (Jeff Grauzer) on bass. The Alamo Drafthouse called us one of the best in the nation. 
Jeff left in late 2016 but we started a weekly residence at The Ritz in downtown Austin that was cut short after a tumultuous spring 2017 tour that started with Phil breaking his back and ended with a dramatic split between me and Leila.  Minnesota-based winds player Zelda Younger and long-time friend and guitarist/bass player Aaryn Russell quickly came on board for the fall leg of the tour. 
We took a break and Henry Vines returned as a primarily composing member in 2018. We toured with flutist Sarah Jane Hargis and Zelda for two legs of The Phantom of the Opera. Keyboardist/singer Skunk Manhattan joined summer 2019 and we wrote/toured our score for The Cabinet of Dr. Caligari. 
2020 – 2022 - POST PANDEMIC  
When the pandemic hit, we launched a Patreon page and turned all activity online. We released The Flash Drive of Dr. Caligari. Chuck re-activated and we recorded several rockin' remote collaborations that included Star Material singer Katie O'Neil. 
In 2021 we recorded a four-song/video tribute to Eddie Van Halen called Ain't Talkin' 'bout Love and began making improvements to our Nosferatu soundtrack - even adding drums.  In that process we raised $8900 for the project.  We performed Nosferatu in Austin, Houston and Dallas on Halloween weekend with drummer Eoghan McCloskey and Skunk and I split bass duties.  We're continuing to refine the score for release in 2022.
Over the 2021 holidays, I took stock of how much material we've had sitting on the back burner ever since we really started touring with silent films back in 2012.  We challenged ourselves to release music every month in 2022 in our "Cannonade of Content" which will give us an impetus to record new stuff and finally release  the material we've been sitting on for as long as 15 years.